The eagle-eyed amongst you will have noticed that the lovely Kiki's Boutique have upped their exclusive discount for readers of Molly and the Princess from 10% to 15% – the code is over in my sidebar →
There are so many gorgeous things to choose from at Kiki's, from clothing to giftware, that I have been tempted to go mad with the discount code, but due to moving and downsizing, I must refrain from all but essential purposes. But I can show you one item that I consider a 'must-have' from Kiki's – an Olivia Burton watch.
The Olivia Burton range of vintage-inspired watches are made with gold-plated faces and leather straps. I like the simplicity of the designs, and chose the Mink and Gold Rose Big Dial watch with its elegant design and large face (because, you know, my eyes are not what they used to be) …
Made with genuine luxurious mink coloured leather, the Big Dial watch by Olivia Burton is a real show stopper. The Big Dial watch has a solid glass face which is surrounded with a rose gold plated case measuring 38mm x 38mm. The back of the case is etched with Olivia Burton branding and the underside of the strap is embossed. The large sunray effect dial makes this beautiful vintage inspired watch a real statement piece that is ever so chic and easy to wear.
Each watch is presented on a velvet cushion inside an Olivia Burton branded box, making it a real delight to open. That's after experiencing opening the Kiki's wrapping – I have to say placing an order with Kiki's is great: it seems like you have only pressed send on your order before the postman comes knocking at the door, with Kiki's signature pink packaging containing your perfectly tissue-wrapped item/s.
I'm loving my watch, just look how the rays of the sun catch the dial (and ignore my hairy arms please!):
I should have mentioned how reasonable this watch is – only £65 – and that's before the exclusive 15% discount has been added, which would make it … even cheaper (you can do the maths!). Please feel free to head to Kiki's and use the discount code (Molly15, entered at the checkout) with wild abandon – not just on watches, but on any full-price item that takes your fancy.
If you do, please come back and let me know what you've bought (in the comments below), I shall have to live vicarously through others' purchases for a while.
Happy browsing and shopping,
Moll x
P.S. And thank you Kiki's Boutique for continuing to be so wonderful and supportive of my blog and my readers.
Read More
Due to downsizing, I'm having a massive purge at the moment, so charity shops are completely out of bounds, apart from for donating purposes. So this week's Magpie Monday is about getting rid, rather than acquiring.
I've been selling like a women possessed – my vintage clothes to the Real McCoy, records to Rooster Records, books to Topsham Bookshop, furniture and household items on Gumtree and my local For Sale In … Facebook group, sundry items on Ebay, and a motley selection formed the basis of a car boot sale.
It's been many years since I did a car boot sale (not having a car myself doesn't help, I suppose!) and I am not the best at getting up early! Apart from that though, it was fun. We managed to sell most things, and only came back with the very dregs.
My favourite sale of the day was for an item that I only brought as an afterthought – it was intended for the charity shop, I thought someone might want it for the frame. A portrait of yours truly, painted when I was in my twenties:
I used to sit for portrait classes when I lived in London. This was painted by one of the students, who presented it to me at the end of term. I've never really liked it – I thought it made me look old, and sad, and it seemed a bit odd to have a portrait of yourself on the wall, so it's been hidden away.
The portrait at the car boot sale brought about some lively conversations. One lady enquired about the price, then told me I mustn't sell it and that she couldn't possibly let me, as she thought I would regret it as it would be lovely to have when I am older. It was bought by a gentleman who was really taken by it, he said he had lots of artists in the family and he saw something in this picture – he said it had a touch of Virginia Woolf about it.
I don't think we need too many souvenirs of the past in terms of physical objects around us. This blog post can serve as a reminder of the portrait, I don't need more than that – certainly not something to gather dust and never see the light of day. It seems odd to think that a stranger will have a picture of me on their wall, but I hope 'I' will be happy in my new home. But what do you think, should I have sold it, or no?
Linking up with Missie Lizzie's Magpie Monday, please click on the button below to go there …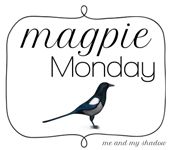 Read More